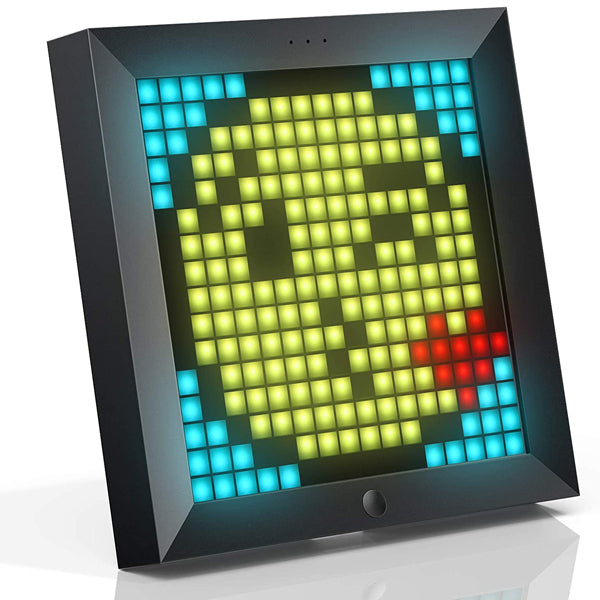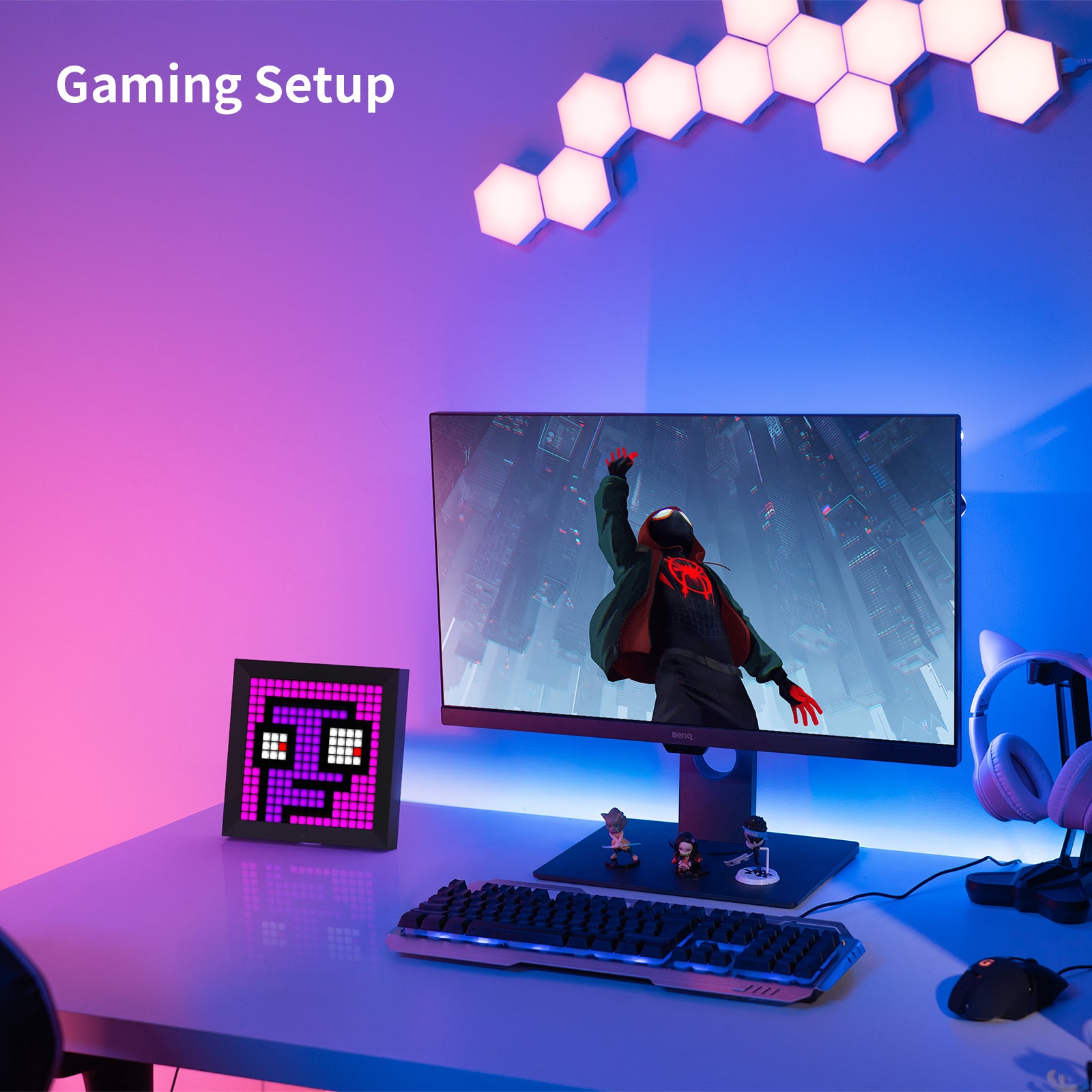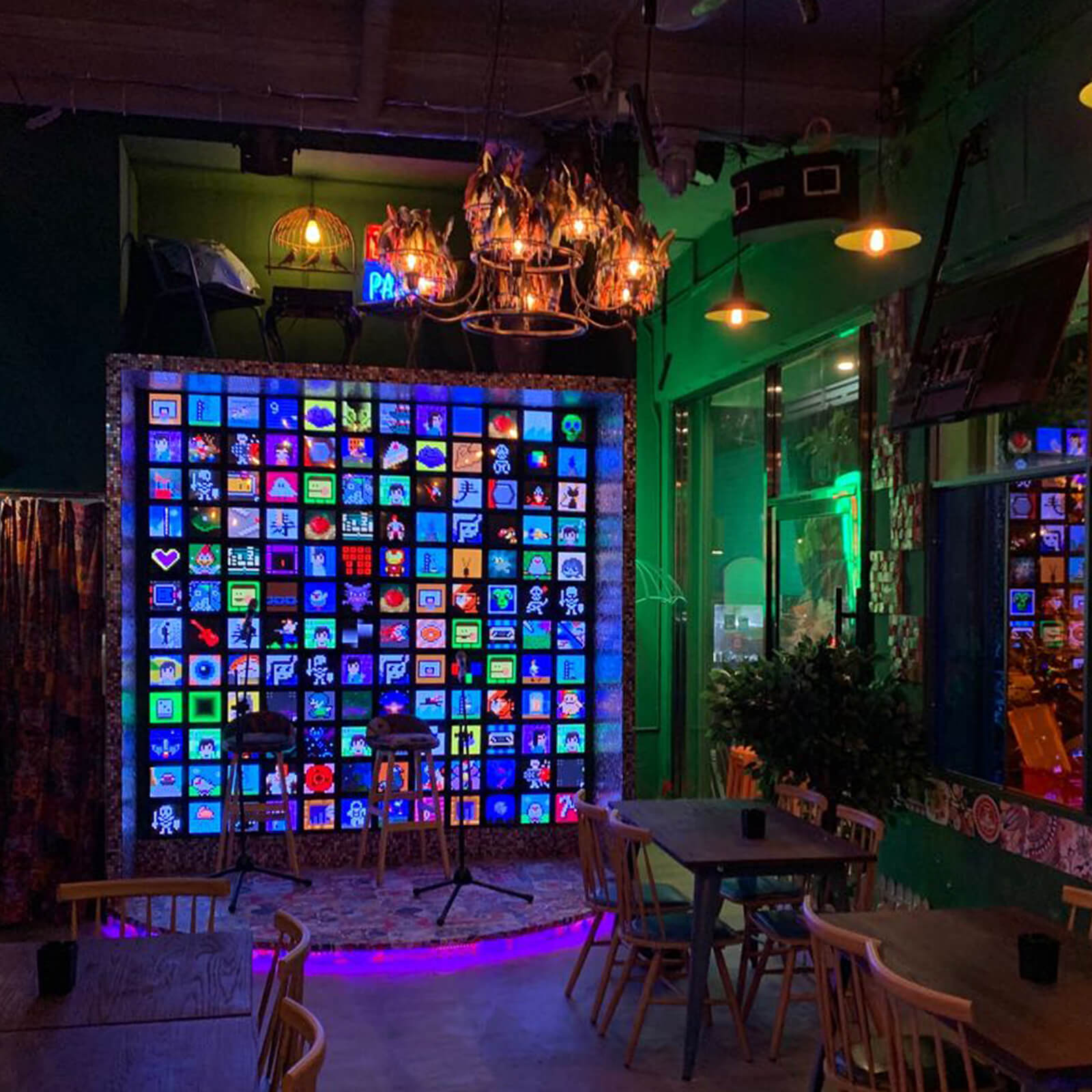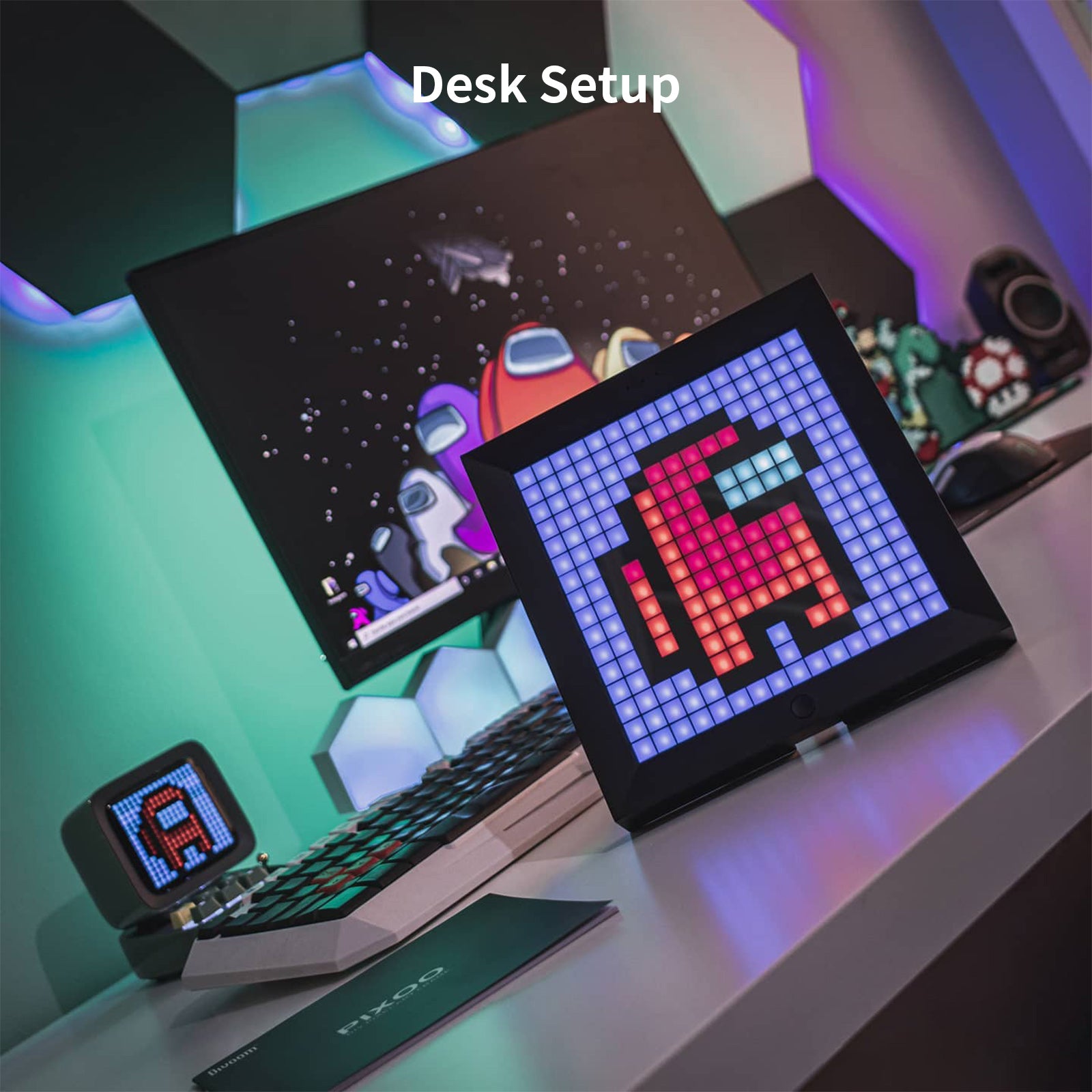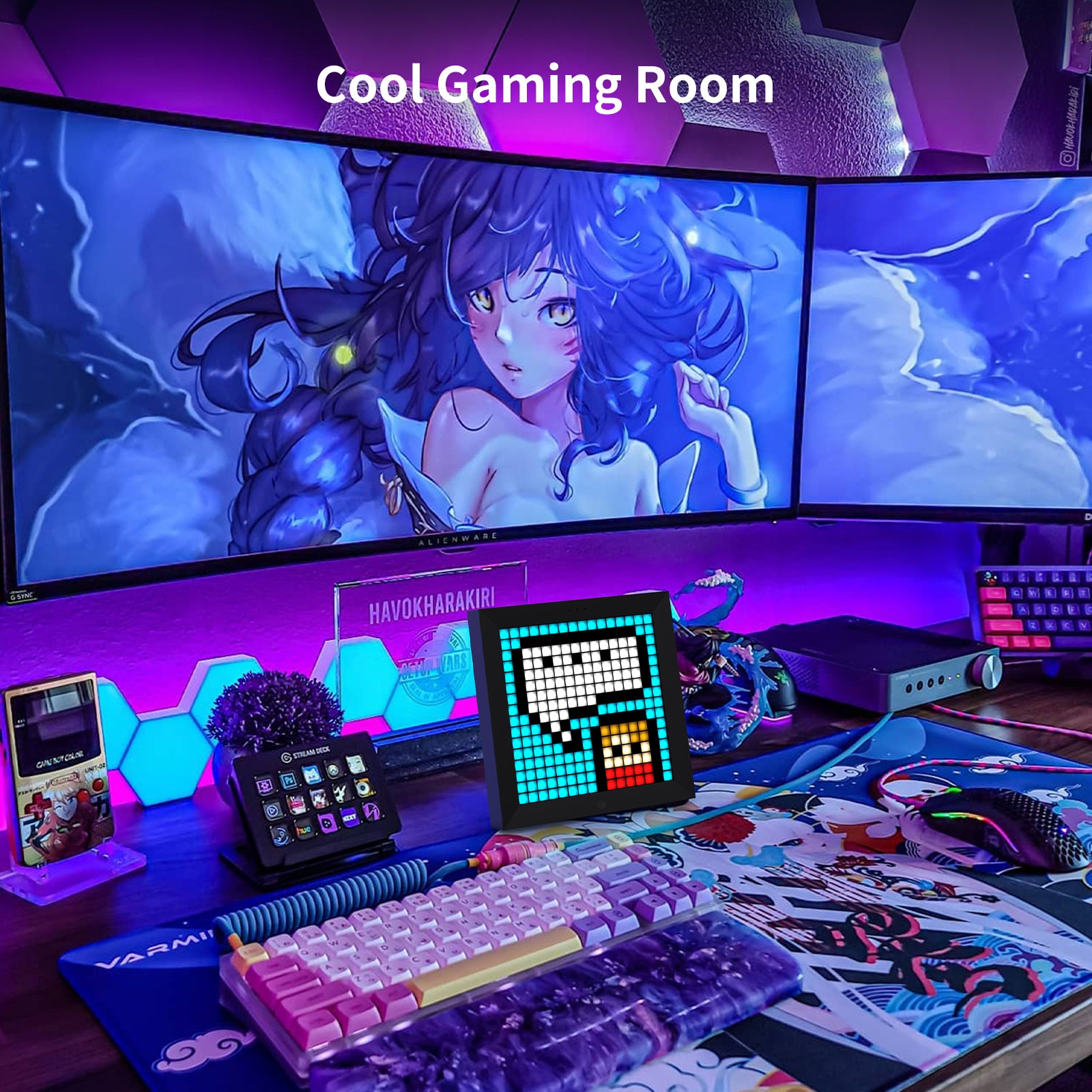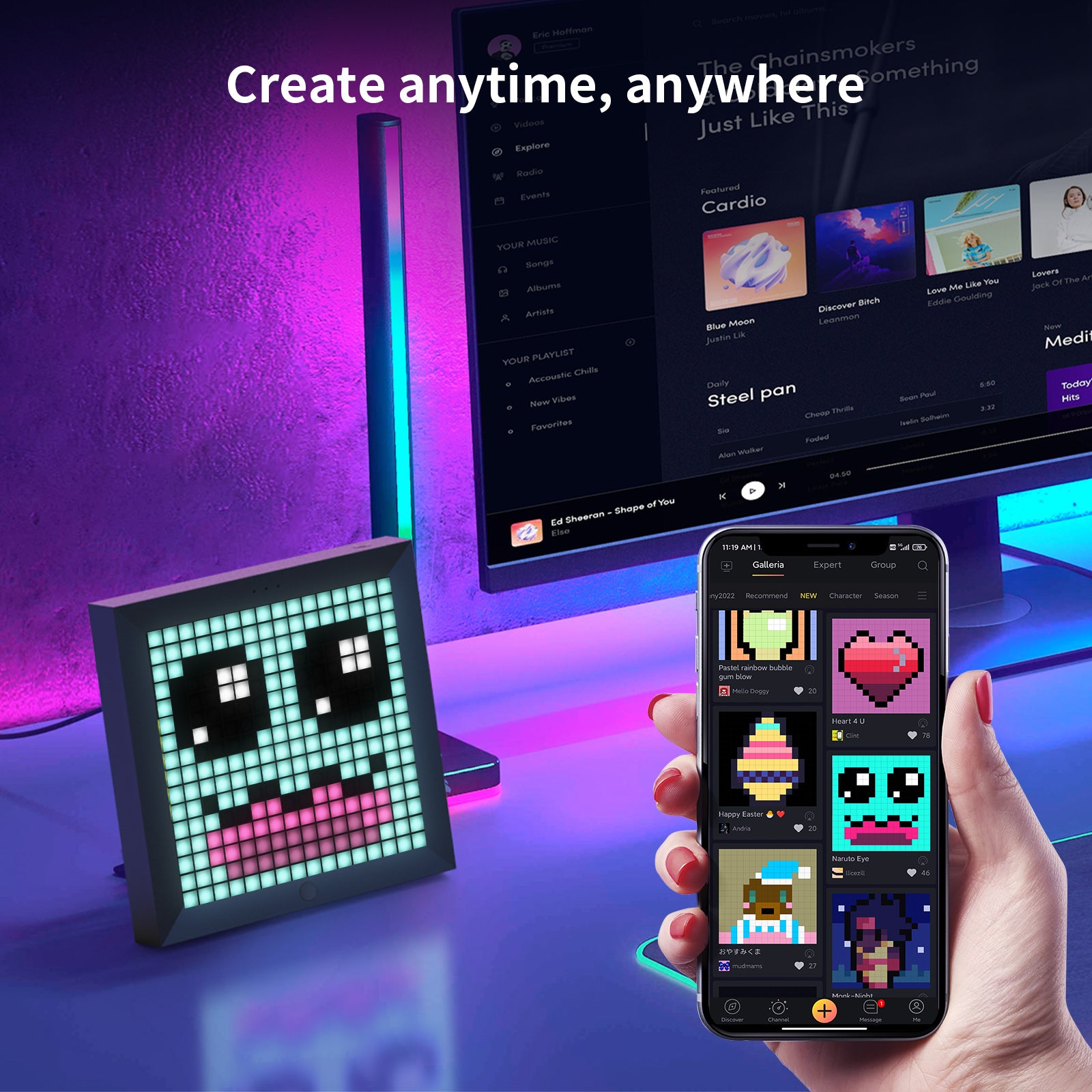 Divoom Pixoo 16x16 ピクセル アート LED ディスプレイ ゲーム ルームの装飾
---
Shop Pixoo - Divoom Pixoo ピクセル ディスプレイは楽しくて便利なテクノロジーです。 Pixoo はスマート掛け時計として使用したり、天気や気温を表示したり、ランプや音楽ビジュアライザーとして使用したりできますが、最も楽しいのはピクセル アートを表示することです。

ピクセル アートを作成 - この LED ディスプレイ サインは創造性を発揮する優れた方法です。 Divoom アプリでは、独自の画像、アニメーション、スクロール テキスト メッセージをデザインするオプションが提供されており、すべて多種多様なオプションが提供されています。

お部屋にスパイスを加えましょう - アプリでは多くのアーティストのピクセル ペインティングを利用できます。悟空、ストリートファイターのケン、またはポケモンのどちらを画面に表示するか決めることができません。さまざまなモチーフの幅広さは本当に素晴らしく、すべての部屋、すべてのゲームラウンジ、またはベッドサイドテーブルの上で本当に目を引く装飾になります!

より実用的な機能 - ショップ、ホテル、コーヒー、バーの広告や販売促進用の看板だけでなく、ゲームルームやオフィスのピクセルアート装飾としても最適です。 Twitter、Facebook、Instagram からの素早い通知の受信、天気、温度計、騒音計の LED 画面の確認をサポートします。

素晴らしいギフトアイデア - 机の上に置くのに最適な小物であり、その上にアニメーションやその他のアートを無限に置くことができます。古いコンピューターやレトロ ゲームが好きな人へのクリスマス、ハロウィーン、誕生日、ブラック フライデーのギフトに最適です。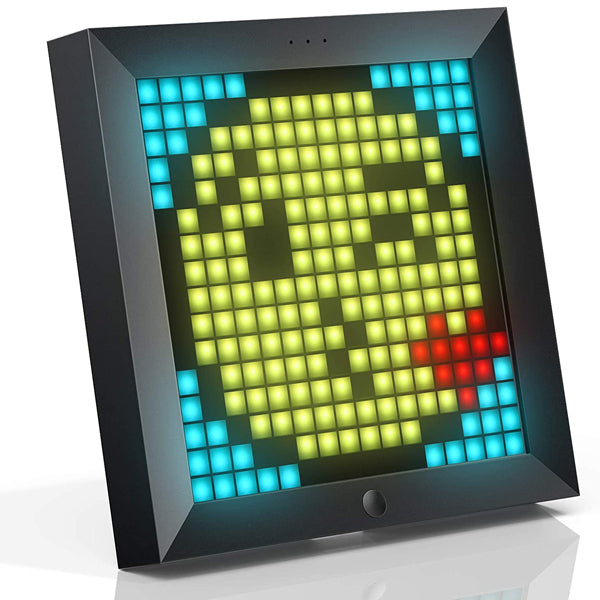 Explore the pixel art world with the Pixoo, and it offers more features than your wildest imagination. Decorate the space, and light up your life!
Create in pixel | Display in art
Light up the holiday spirit with the Pixoo. Its online gallery is full of holiday themed animations for you to choose, and you can change or create your own with ease. This is the most unique ornament to complete the holiday atmosphere.
Desktop Companion
Pixoo is more than a lighting decor, it's your favorite desktop companion.
- Daily Activity Calendar
- Music Visualizer
- SNS Notification
- more...
Pixel Alarm
Pixoo offers both alarm and sleep aid features, so you can always stay on time.
- Customizable alarm
- Sleep aid with tuned lights
- Multiple clock designs
DIY Pixel Art Creation
Creating pixel art is easy, sharing your creation is even easier. Pixoo is a masterpiece to display your master works.
- Multiple Drawing Tools
- Customizable text editor
- Photo/GIF/MP4 conversion to pixel art