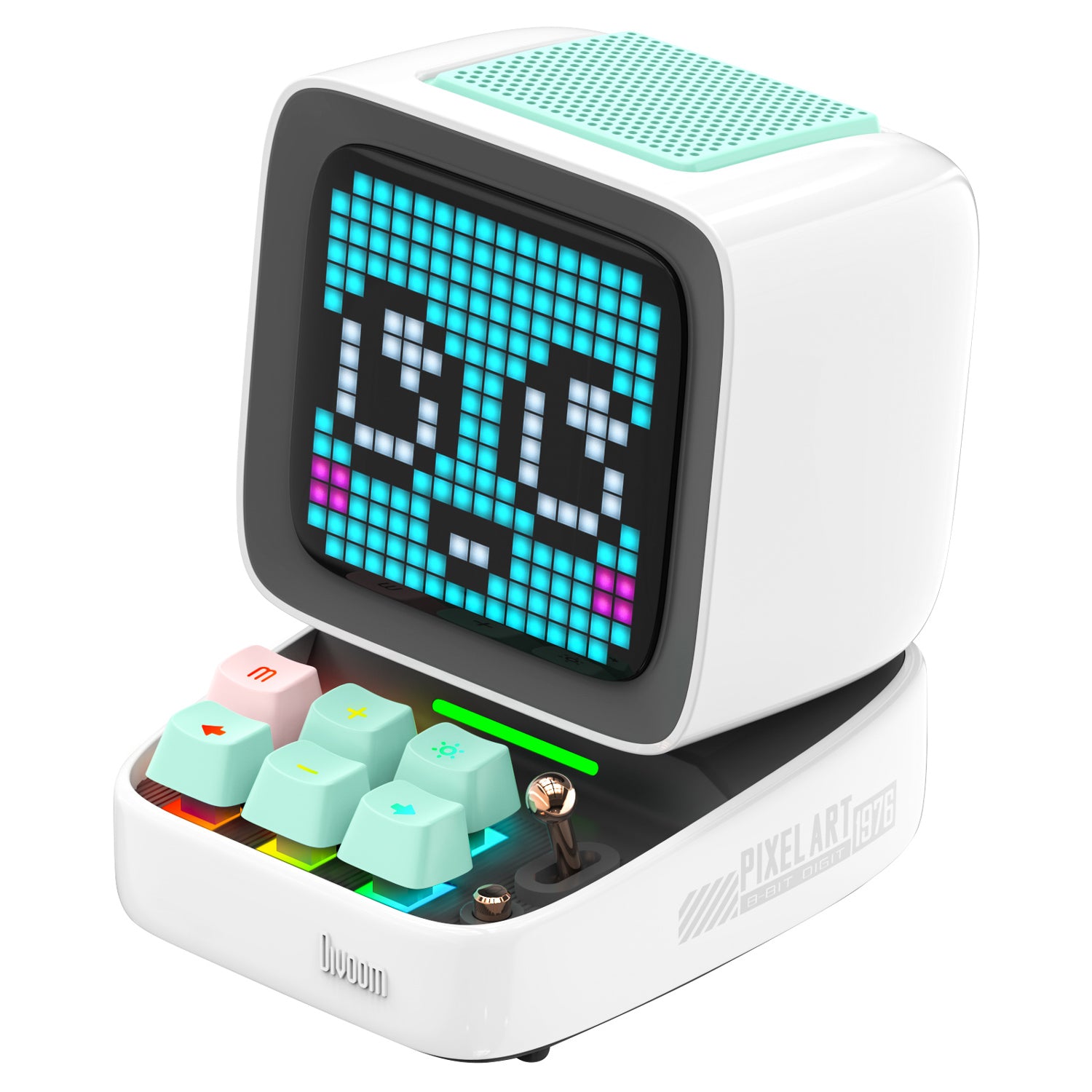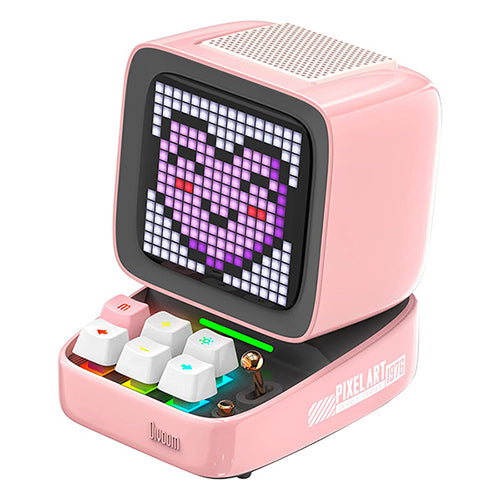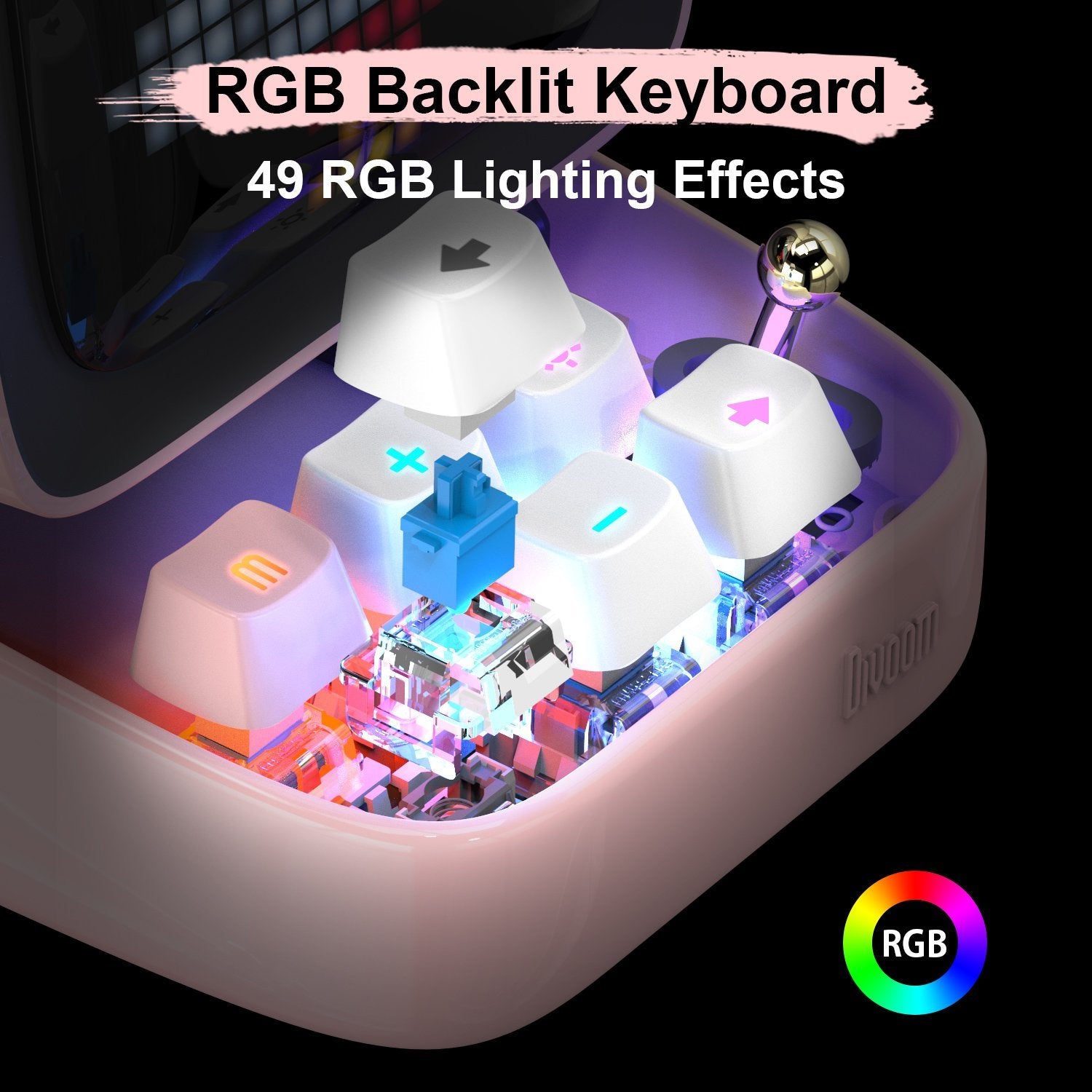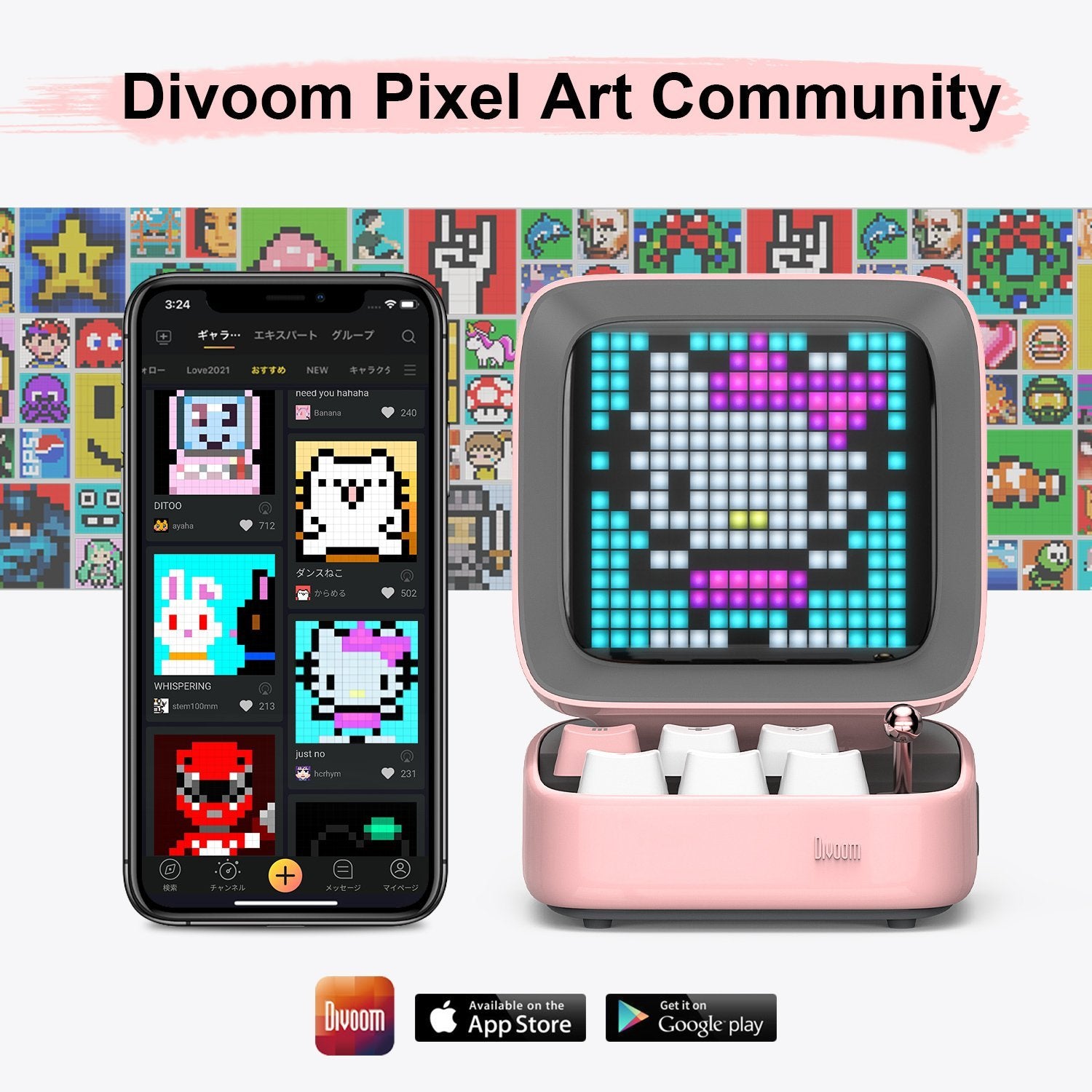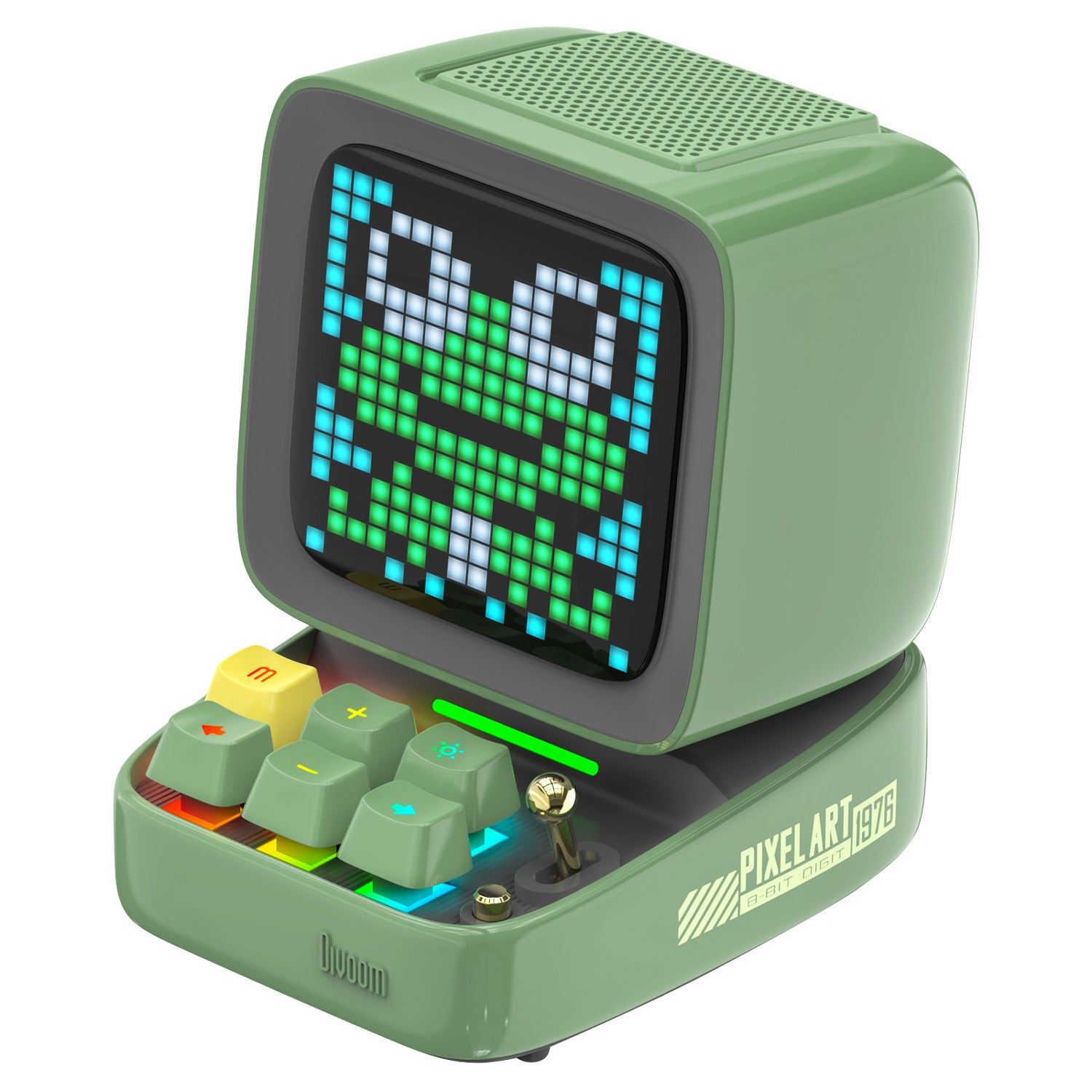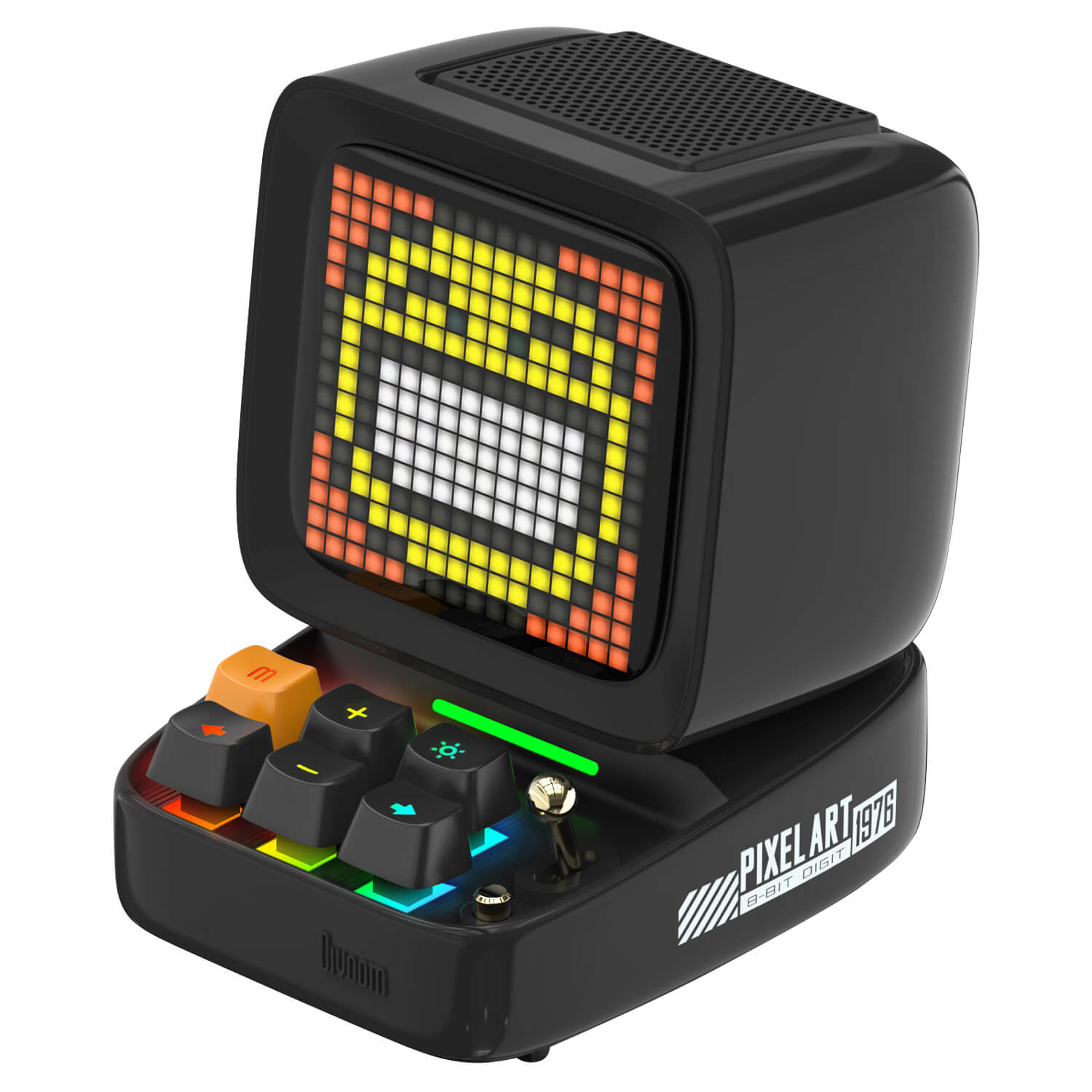 Divoom Ditoo-Pro Retro Pixel Art Bluetooth Speaker
---
Best Desktop Companion: Pixel art animation, Bluetooth speaker, alarm clock, SNS notifications; Ditoo-pro is the most versatile desktop gadget for your home and will meet all your expectations for desktop gadgets! 

Amazing Audio Quality: Powered by a powerful DSP tuned speaker, the cute bluetooth speaker delivers an immersive audio experience to a 360° sound to your ears. With its built-in music visualizer, let's enjoy its sensational performance with light & sound.

Vintage Style & Modern Tech: Ditoo-pro features a vintage PC design with a set of mechanic keyboard and functional lever; The the retro 8-bit pixel art animation also further enhance its nostalgia characteristic.

DIY Pixel Art Creation: With the Divoom companion APP, you can create and show any pixel art animation on the Ditoo-pro. It is also a gateway to one of the largest pixel art online gallery and community in the world. 

Alarm Clock & More: Ditoo-pro is full of exciting features, such as: alarm clock, sleep aid, SNS notification, stopwatch, weather report, classic mini games and more... Your Ditoo-pro is constantly evolving through the updates.    

Perfect Gift idea for your love: Nice Gift package & personalized greetings works great for a birthday,Christmas/graduation/ black friday 2023 gift as well as other seasonal holiday event.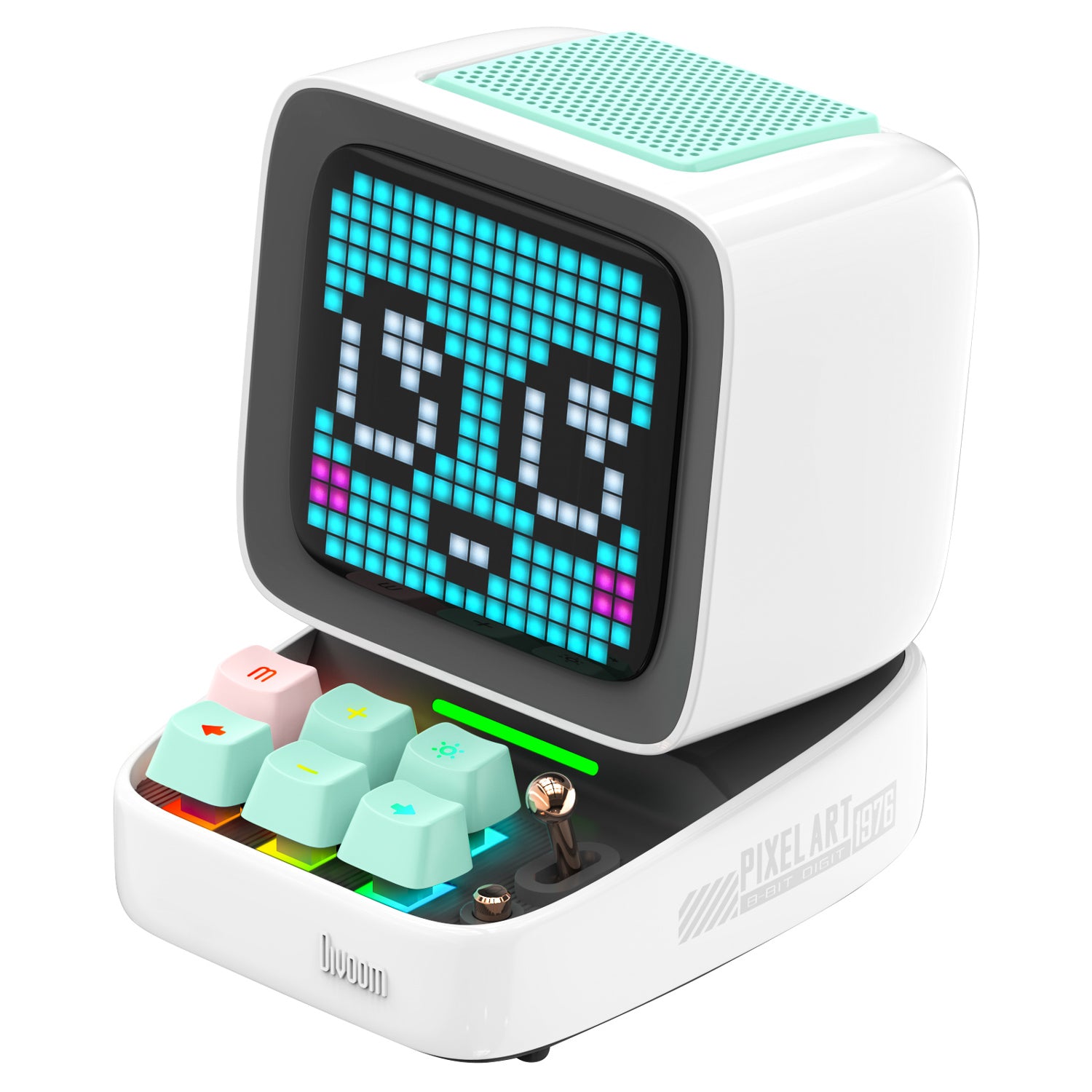 The Retro Pixel Art Portable Speaker
Ditoo
Media and KOL are all talking about Divoom
Six reasons that you should choose Ditoo
Ditoo is the most interesting gadget for you, and here are the reasons:
1
1.Vintage Style Design
Stylish vintage PC design
RGB keyboard w/light effects Functional pulling lever
2
Great audio quality
10 watts output audio driver
360°audio directions
Bass enhance port design
3
Advance smart alarm
Customizable daily alarm clock Customizable sleep aid function Calibrated ambient light effects
4
DIY Pixel art creation
Pixel art creation w/drawing tools Picture/GIF pixel art conversion Massive online gallery & community
5
Massive daily function
SNS notification (WhatsAPP, Line & more...)
Classic mini games
Helpful daily tools
6
Great gift for anyone
Gift ready package design Personalized startup message Multiple available colours
49 RGB Backlit Mechanical Keyboard
Professionally Tuned Speaker
10W DSP Digital Amplified Audio
Dual Passive Design
Discover the pixel art magic
Pixel art is simple, Pixel art is fun. This LED panel is also a portal to the world of Pixel art
Internet Radio
App-enabled 50000+ Internet radio stations
Bluetooth
Enjoy your favorite tunes on Spotify, iTunes or any music APP
TF Card
Play your favorite MP3 straight from a TF card (up to 64GB)
Creating pixel art animation is easy, sharing your creation is even easier. Ditoo-Plus is your gateway to the world of pixel art.
- Multiple Drawing Tools
- Customizable text editor
- Photo/GIF/MP4 conversion to pixel art
Notification
Ever missed a family message or an important call? Ditoo provides a visual notification to remind you the incoming event, even your phone's in silent mode.
Mini Games
Enjoy the mini games on your Ditoo.From the legendary.we got them all! Magic 8 ball Dice Snake
Need a weather forecast?
Divoom Smart is linked with the online weather service provider. We can provide the accurate weather information & forecast to you.
Voice memo
Want to leave a voice message for the family? Ditoo can record a voice message up to a minute, and it will automatically erased after play, so your privacy stay safe.
DJ mixer
Want to jam with your favorite beats? Professional DJ mixer and audio instruments at your fingertip Record your own remix and show to your friends Record/Playback remix 24 individual instruments 96 DJ sound
Divoom Smart is the universal companion APP for the Divoom pixel art speakers Create and share your designs, as well as to like/follow/interact with over 1.5 million users
MATERIAL
Dimensions: 114.2×90×121.2 mm
Speaker size: 48mm
Output power: 15W
Signal to noise ratio: 80dB
Battery Capacity: 5000 mAh
Battery Voltage: 3.6 V
Battery Charge Time: 4h hours
Playback Time: Up to 8 hours
Bluetooth compliant: Bluetooth V5.0
Weight: 533g
Frequency Response: 30-20K Hz
Wireless range: 10M/33ft
This product is rated 4.7 of 5.0 stars.
It has received 421 reviews.